Have you ever found yourself apologizing to someone who just bumped into you? I can relate to someone who struggles with people-pleasing, I'm sorry, is a knee-jerk reaction, and saying no to someone who's asking a favor of you is out of the question. People-pleasing shows up in so many ways big and small, but they're all problematic, trust me. So in this blog, I want to share the dangers of people-pleasing, there are a few big ones, and some of the most helpful tips on how to stop people-pleasing.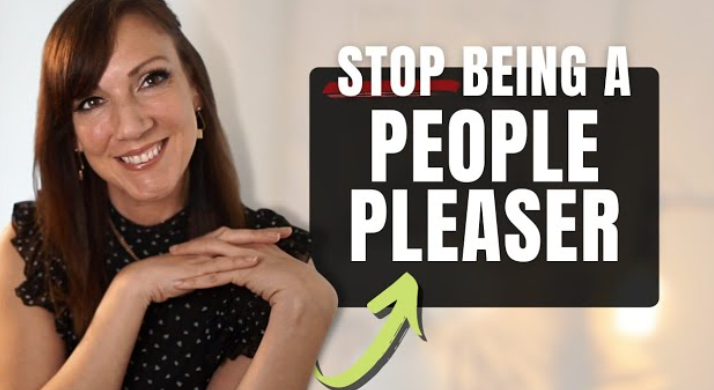 Today's topic combines self-improvement and emotional abuse. In other words, there's an elephant in the room. Why do we want to please others? There are several options, and I'll cover four of them. Pleasing your parents came first, you're likely to struggle with people-pleasing as an adult if you grew up in such a household. You may struggle with people-pleasing if you grew up with emotionally unavailable parents because you felt you could reach that period if you were the perfect child. When one or both of your parents were sick, you may have had trouble pleasing others. You were made to be the caregiver when you needed it most. It's possible that one of your parents was a narcissist who triangulated their kids. So you try to make your parent happy so they will finally value you. This is by no means an exhaustive list. As a child, you may have been taught that self-sacrifice determines your worth Adults may struggle with pleasing others. No one, in particular, is being shamed or blamed. It's about taking ownership of where we are now rather than where we want to be. This is important self-development. So we think pleasing others is good. You're putting others' needs before your own. It seems humble and kind.
Why would anyone want to stop pleasing others? People-pleasers should have a neon yellow flashing target on their back that attracts narcissists, sociopaths, and psychopaths. Even if you avoid these predators, constant people-pleasing does not bring true happiness. It keeps people away because you aren't really letting them in. When you always go along with uninteresting plans and laugh at uninteresting jokes. You are not being honest. Making those closest to you may feel they don't know you well. Trying to please others usually backfires. People pleasers are usually left out of the group. Because going along for the ride is boring. You may be afraid of being abandoned or rejected if you don't prioritize others. You may find yourself in social situations where you freely give your time and energy to others. But then you're on your own. You may be exhausted and burnt out from your inability to say no to requests from others. And you're afraid of disappointing people if you say no. That disappointment seems to be linked to your self-worth.
So, how do we stop pleasing everyone? The first step to overcoming almost any obstacle, in my opinion, is education. Understanding our own behavior will allow us to see the shadows that have been holding us back. Many of our adult issues stem from our childhood emotions. So I've discussed why we fall into the people-pleasing trap. Perhaps it is time to face that aspect of yourself. If you can't relate and still struggle with pleasing others, you should see a therapist or do some self-reflection. Find out why you're acting the way you are. Understanding this can help you start healing or at least highlight the wounds or need for healing. So, we've discussed what people-pleasing is and how to achieve it.
Want to reduce the impact of people-pleasing in your life? Here are my top tips.
#1 Stop Apologizing
People-pleasers have a bad habit of apologizing when there is nothing to apologize for. When you've spent your entire life apologizing for everything, it's difficult to stop cold turkey. Allow yourself a few milliseconds to determine whether you truly have something to be sorry for. If the answer is no, don't apologize; minor apologies aren't a big deal.
#2 Don't Accept Insincere Apologies
Stop accepting insincere apologies. Forgiveness should never be a knee-jerk reaction. It sends the message that you can be walked all over. These are people who do not value you or your time, and it must stop. I apologize if your response was, "Oh, it's okay." You're not going to see anyone.
They can do anything horrible and just say, oops, sorry, you know, the type of person who will take advantage of this as well. So this is the type of person who agrees to meet you somewhere, correct? And they simply do not appear. Or they call you five minutes after the meeting time and say, "Oh, I'm going to be half an hour late," especially if it happens on a regular basis. These are people who do not value you or your time, and it must stop. Sure, they'll apologize the next time you see them, but don't they apologize all the time? And it's a completely phony apology. I'm sorry for not being able to do so at the time. You already know how I am. Then they pause to await your response. You can respond, but don't say it's fine. It is not acceptable for people to consistently disregard your time. What they're really doing is pushing boundaries to see if you'll just let it go. If you forgive them for it, they can do it again at any time.
So here's a tip: don't accept the apology. It appears to be quite simple. But, in practice, I can tell you that it is extremely empowering. Because that person is waiting for you to say it's all right. Especially if it's something you've done before. And they're just waiting for you to give them a free pass, which you don't. It's liberating.
#3 Start Saying No
Third, start saying no. You've probably heard the phrase "say yes to everything and see where it takes you." This, on the other hand, is the exact opposite. So, if you've identified that you have a habit of overcommitting yourself because you can't stand saying no with any force, say no to small things to get practice. Even if you believe you can do it politely, decline. This will prepare you to say no when the stakes are higher. You are not required to say no to everything. Simply add a few noes to your repertoire to get the hang of it. It's not the end of the world; those who love you will continue to love you, and believe me, they'll be back to ask for more favors in the future. At the very least, give yourself time to consider requests, and get comfortable saying things like "I need to think about it," or "Let me check my schedule and get back to you."
#4 Trust Your Instincts
As a people pleaser, you almost certainly never ask anyone for anything. But you just have a feeling. For instance, when I was in a toxic relationship, I knew beyond a shadow of a doubt that if something were to happen and I became dependent on him for anything, all I would see is a cloud of smoke as he vanished for my life. Start paying more attention to that inner voice, because it's usually screaming the warnings we don't want to hear.
#5 Reconnect With Yourself
Reconnect with yourself, number five. If it feels like it's an uphill battle to stop people-pleasing, or if you're afraid of alienating people, try shifting your focus, shifting your focus on who you're trying to please. And, as you might have guessed, you should be at the top of that list a lot of the time, because you're probably not used to worrying about yourself. As a result, this will feel strange. However, if you struggle with people-pleasing, you will be disconnected from your true self. So many people-pleasers have no idea what they like to do because they are always going along with the plans of others. If this is the case, simply begin experimenting. Consider what you used to do when you were younger. Start practicing if you want to draw or sing in your spare time. Again, you don't have to be good at whatever you're doing. This is all about reconnecting with the part of yourself that has been suppressed.
Bonus Tip: #6 Validate Yourself
Sixth, validate yourself. When you're used to receiving validation from others. It will feel strange to begin validating yourself. But here's the thing about external validation: it's a two-way street. It is fleeting, and even if people have good intentions, they will not consistently validate you. You'll be disappointed unless you have a staff of yes, people at your disposal. However, when you designate yourself as your own hype person, the validation grows into confidence and self-love. Every victory should be celebrated. And, if you're at ease using affirmations to boost your confidence, they really do work.
So, if you found this video useful, I believe you would benefit from learning more about the difference between being nice and being unkind. You're being overly nice if you're a people pleaser by nature. For more information, please see my video on the dangers of being nice. I'll put a link to it right here. Remember to like, share, and subscribe, and I'll see you next time.
💥One-on-One Coaching💥
For more information on coaching sessions, please visit: https://commonego.com/services
📧 Email newsletter 📧 https://commonego.com/newsletter
Watch next:
Toxic Hope https://www.youtube.com/watch?v=J2xfe…
How A Narcissist Acts When You're Sick https://www.youtube.com/watch?v=dmKHq…
Repurposed by MUNCH